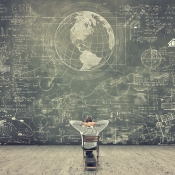 Political Scandal Has Not Stopped Austrian Purchases of Russian Gas [GGP]
The dominant player in Austria's oil and natural gas sector, OMV, has signaled that a Russia-related political scandal that recently toppled the government in Vienna will not halt the Austrian company from deepening its ties with Russian energy firms. This became apparent in early June, with OMV signing amendments to an agreement under which it will acquire a quarter of Gazprom's massive Urengoy gas field in Russia's Yamal Peninsula.
The agreement, expected to be finalized by the end of 2019, will give OMV 24.98 percent ownership of Blocks 4A and 5A at Urengoy, the world's second-largest conventional gas field. Gazprom will retain majority control of this Arctic gas field—50.01 percent. Meanwhile, German Wintershall Dea, Gazprom's main partner on the Nord Stream One and Two (under construction) pipelines running from Russia to the European Union, already owns the remaining 25.1 percent of Urengoy. OMV is also a Nord Stream Two partner.
The Austrian energy giant signed the Urengoy amendments on June 7, less than a month after Vice Chancellor Heinz-Christian Strache, the Russia-friendly head of Austria's right-wing Freedom Party, became embroiled in the so-called Ibiza-gate scandal. In a secret recording made on the Spanish island of Ibiza and later publicly released, Strache promises government contracts to the niece of a wealthy Russian businessman with close ties to the Kremlin in exchange for her support in his next election campaign. Although the woman turned out to be an impostor, the scandal brought down the Freedom Party–led governing coalition, forcing early parliamentary elections in September.
Most of the Russian gas that serves Europe comes from the Urengoy and Bovanovenskoe reservoirs. Urengoy has been one of the world's most productive fields for 40 years, but the gas closest to its surface is running out. Gazprom has decided to find international partners for the expensive, more complicated drilling needed to remove gas from Urengoy's depths. The company has already extracted 6 trillion cubic meters from the upper formations of the field—Blocks 1A, 2A and 3A. It calculates that a further 10 trillion cubic meters are available at deeper locations. Gazprom, OMV and Wintershall will have to drill down 4 kilometers (about 2.5 miles) to reach 280 billion of the 10 trillion cubic meters.
Once all five blocks reach their maximum production levels, Urengoy will be producing 36.8 billion cubic meters (bcm) of gas a day—a fourth of Russia's combined exports to Europe and Turkey. The gas will transit to Western Europe via Gazprom's Brotherhood pipeline running through Ukraine and Slovakia.
Wintershall, Germany's largest oil and gas producer, acquired its stake in Urengoy in an asset-swap deal in 2015, when it was a subsidiary of BASF. It also obtained another German oil and gas company, DEA, from LetterOne, a firm owned by Russian billionaire Mikhail Fridman. LetterOne had acquired DEA from another German petroleum company, RWE, in March 2015. The swap gave Gazprom access to important North Sea offshore gas assets and key gas storage and trading companies in the European Union.
OMV also owns the Baumgarten gas transmission facility, a linchpin of Gazprom's European supply network and one of the European Union's key gas hubs. Located around 10 miles east of Vienna, Baumgarten is a transit and storage facility for the 40 billion cubic meters of gas a year that Gazprom sends to the continent. The Austrian hub will also be a key European transit point for Russian gas that flows through Gazprom's existing TurkStream pipeline to Turkey and on to the EU. Before TurkStream gas can end up in the continent, however, Gazprom will have to build a pipeline that connects this pipeline to the EU network.
Neither Austria's political scandal nor the United States' threats to sanction the Nord Stream Two partners appears likely to prevent OMV from completing its acquisition of a stake in Urengoy. Washington opposes the Nord Stream pipeline expansion on the grounds that it will make Europe more dependent on Russian gas.
Austria was the first Western European country to import gas from Russia—in 1968, when Russia was part of the Soviet Union. Many Austrians see the more than half-century partnership as a plus. Thus, Vienna is unlikely to bow to outside political pressure to weaken or scrap its Russian gas ties, even if a government that is less enamored of Moscow emerges in September.
OMV sees the Urengoy deal as strictly business, increasing its profits by giving it access to assets along the entire petroleum-business value chain. The acquisition is also a defensive play. OMV believes substantial gas reserves will strengthen its ability to cope with growing gas-market competition. Hence, in the Austrian case, interrelated economic considerations are providing unbending support within the EU to Gazprom's politically motivated Nord Stream Two project.
Jamestown Foundation, Eurasia Daily Monitor Volume: 16 Issue: 92The statements, opinions and data contained in the content published in Global Gas Perspectives are solely those of the individual authors and contributors and not of the publisher and the editor(s) of Natural Gas World.

Source link