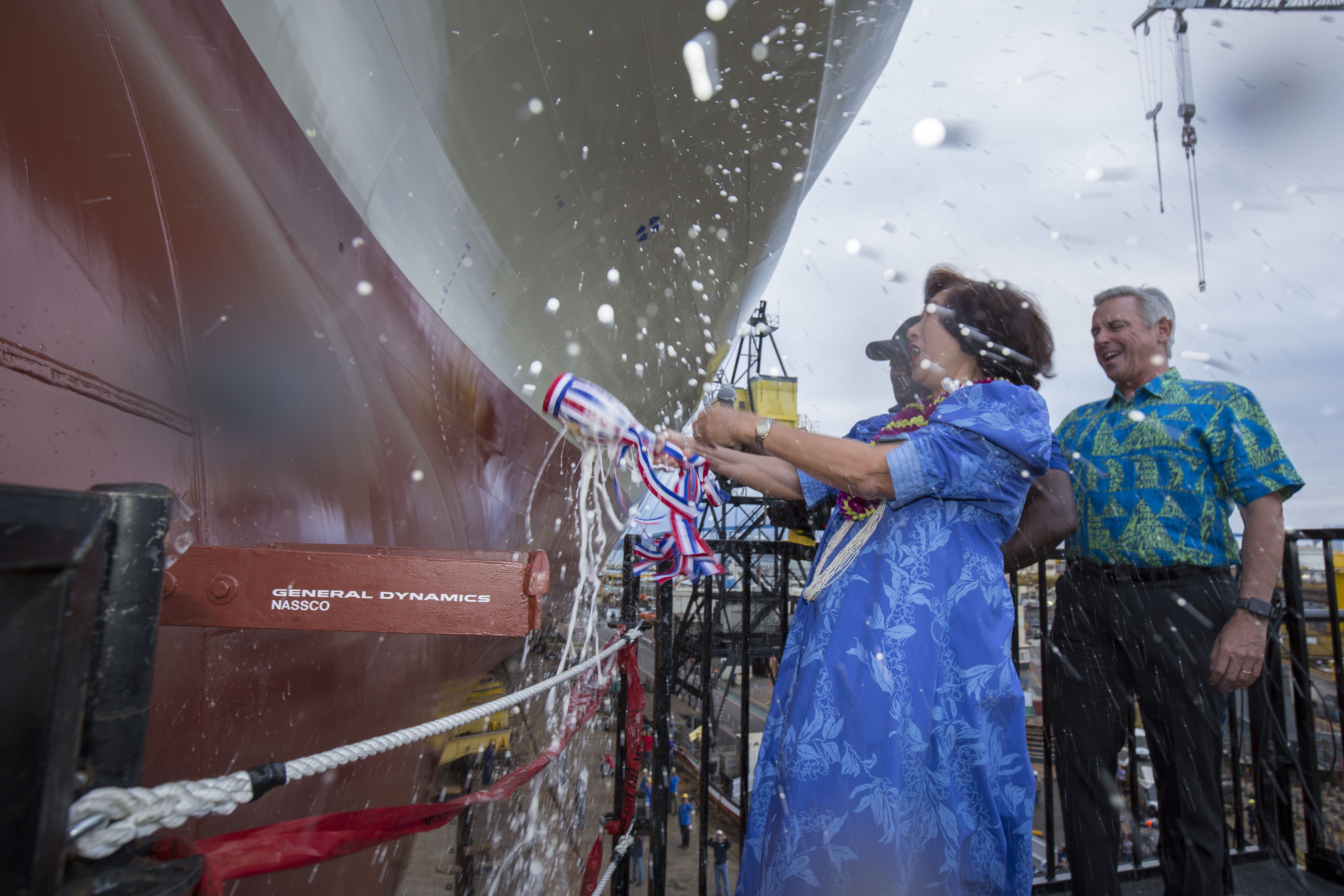 Constance Lau, a member of the Matson shipping company's board of directors, breaks a bottle over the bow of Matson's new ship to officially name it Lurline. Looking on is Matson CEO Matthew Cox. Since Matson is a Hawaiian company, both wear Hawaiian print clothing. Photo courtesy of General Dynamics NASSCO.
General Dynamics NASSCO launched a newly built commercial container ship June 15 with much fanfare.
The move made room in its Barrio Logan shipyard to erect the second ship under a two-ship, $511 million contract signed with Hawaii-based Matson Inc. in 2016.
But NASSCO is thinking further ahead.
As the first ship, the Lurline, is completed at pier side and the second ship is built from the ground up, NASSCO's business development team is on the hunt for very specialized commercial shipbuilding work among a limited client base.
Domestic shipyards such as NASSCO tend to serve domestic customers. Market forces and the law are two reasons. International shipyards can generally undercut U.S. shipyards on price.
Under the Jones Act, a U.S. law that will pass its 100th anniversary next year, ship lines such as Matson have to buy from an American shipyard when their vessels carry goods between two U.S. ports. Matson plans to send the Lurline on a route between Honolulu, Oakland and Long Beach.
A U.S.-built ship will likely cost about three times the amount of a ship built in China or South Korea, Matson CEO Matthew Cox said, following the ceremony. However, he said there is value to the purchase. Matson specifies additional steel, giving its ships a 40-year service life while a foreign-built ship may only have a 20-year life.
Commercial Opportunities
The San Diego yard has some leads on new commercial construction.
"There are customers out there looking for medium-range tankers and LNG [liquefied natural gas] carriers," said Thomas Carey, program manager for NASSCO's commercial shipbuilding operation. NASSCO has not yet produced an LNG-carrying vessel but has the capability to do so, Carey said.
"We try to stay ahead of the market and the customer," said Dennis DuBard, head of government relations for NASSCO.
NASSCO's last commercial ships were petroleum product tankers for domestic use.
Commercial shipbuilding projects complement the yard's military ship construction and maintenance work. All contribute to the volume of work that the NASSCO shipyard needs to run, said Kevin Graney, president of General Dynamics NASSCO.
Matson carries containers of merchandise to Hawaii, as well as military cargo and mail. The 870-foot-long, 44,200 metric ton Lurline is a combination container ship and ro-ro (roll on, roll off) ship able to carry cars, trucks and buses. It has a capacity for about 800 autos, and a 160-ton ramp at the stern for loading.